Vipcolor launches the new label color printer for high performance and low cost .

March 18th, 2020
---
---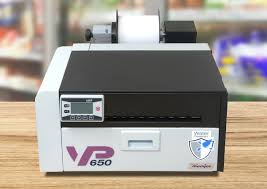 VIPColor Technologies, a leading manufacturer of digital label printing solutions, introduces a new desktop color label printer to its portfolio, despite its high performance, the VP650 is built based upon the Memjet VersaPass™ Thermal Inkjet Technology.
The VP650 with Memjet Advanced Water Resistant water-based dye ink. Coupled with the field-proven technology of industrial-grade printers, was successfully developed, the ultimate printer that can scale along with any dynamic business needs."
The VP650 combines both print quality and speed within a compact desktop. It scales well with production needs of up to 10,000 labels in a day, enabling businesses to meet urgent and peak demands easily.
The VP650 can print 1,000 full color labels (up to 8.5″ wide) within 10 minutes with a resolution up to 1,600 x 1,600 dpi.
This compact industrial printer is equipped with a built-in cutter, patented print and hold mechanisms, network connectivity and remote web browser user interface for flexible configuration and status monitoring.
It also comes with huge 200ml individual ink cartridges, effectively reducing printing disruption due to cartridge replacement.
This printer can be applied to chilled food and beverage, wineries, home care, personal/animal care products, nutraceuticals and most moisture-exposed label applications.
The VP650 will debut in our market at June 2020.​​
Call us to know more about this printer or other models that can help you for your printing labels needs.
Email :
Caribbean and Asia Pacific:
Mexico and Latin America: